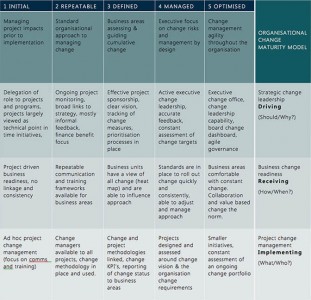 Organisational Change Maturity Model
Carbon Group partnered with the Change Management Institute to develop a research based Organisational Change Maturity Model (OCMM). This is an ideal tool to assess current organisational change capability and develop a plan to build the change maturity that is needed to support the strategy of the business.
The OCMM is focused on 'Change Agility', the ability of an organisation to quickly and effectively respond to the constant change that is being experienced in this 'age of disruption'.
By leveraging the standard capability maturity model structures used in many other fields, the model describes the developing behaviours, practices and processes of an organisation that enable reliable and sustainable outcomes to consistently implement change.
Leading and managing change is not only the role of the project, as such five maturity levels have been developed across three key organisational change categories;
Strategic Change Leadership 

Business Change Readiness

Project Change Management