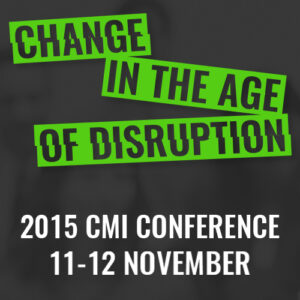 Change in the age of disruption – CMI unconference
The case for change agility.
The case for change agility is important to get right and understanding the influences that are shaping the workplace of the future and how change management needs to adapt is important.
The Change Management Institute (CMI) provided the opportunity to be part of this thinking during its shared learning forum in November 2015. This was a truly global event where delegates were able to attend and actively participate either in person in Sydney and in London, or online from anywhere in the world.
This was a conference with a very big twist, not a 'sit back and listen' event. This was an event that enabled involvement with developing new thinking in change and 'How Change is Changing'.
And…as a result of this thinking an e-book has been published and is available to conference attendees and CMI members.This is a must read for those that are interested in change management in the future.